27.03.11-01.06.11:
I've been in a state of enforced hibernation for the last few months and I guess I owe you all an apology and an explanation.
I'm sorry.  I knew from the start that the hardest part of The Odyssey Expedition would be tackling The Pacific Ocean.  Unlike The Caribbean – where the next island is just an overnight yacht trip away – the distance I need to cover in The Pacific amounts to more than Liverpool to New York and back… and back to New York. While the lower Pacific islands of Fiji and Vanuatu might be easily accessible by cruise and cargo ships, the upper Pacific Islands are next to impossible to 'hitch a lift' to.
This is why I intended to leave The Pacific until last.  Up to this point, the lack of any outside funding for The Odyssey Expedition has not impeded my daft adventures.  I (rather naively) believed that I would make enough money from the TV show to pay my way around the 14 sovereign states of Oceania, but the reality of the situation – and I think any rational person would agree with me – is that I got totally and utterly stiffed by the powers that be.
After going in for a meeting with the company in question last January, it became desperately apparent that the chances are vanishingly small of me getting any money whatsoever for single-handedly devising, shooting and presenting an eight-part television show through some of the most dangerous countries in the world.
The upfront fee – which was all spent on travel (I was given next to nothing in the way of expenses) is all I'm probably ever going to get for my troubles.  D'oh!
The practical upshot of which is that not only am I flat broke, I'm also unable to pay my way around The Pacific.
Those of you reading this who live in the Middle East or Asia and have seen how much mileage these TV chaps have got out of the show (my last estimate was that each episode has been shown in excess of 70 times – that's a good 280 hours of television right there) might understand how devilishly unfair this whole situation is.  I'm not going to carp on about this matter, as far as I'm concerned it's water under the bridge – although I can't say that the downsizing of any given company over the coming months is going to cause me any sleepless nights – I just want you all to understand exactly why The Odyssey Expedition has come to a juddering halt.
It's my own fault: I stupidly signed a contract that wasn't worth the paper it was written on, and it's far too late to do anything about it now.  I apologise from the bottom of my heart to you and all of my loyal followers who I've let down by this turn of events, but none so more than WaterAid.  I wanted to make you guys proud, to stick one to the man: but the man ended up sticking me good and proper.  I fought the law and, well… you know the rest.
I promise that there will be no similar lapses of judgement in the future.
If I am to have any hope of getting to the likes of Nauru, the Marshalls and Kiribati, not only do I need a boat, I need a cash sponsor.  Sponsors are great when you can get them, and the likes of Vodafone and CMA-CGM really went out of their way to help me with gismos or transportation, but generally speaking it's next to impossible to get hard cash out of a sponsorship deal.
As far as a book deal is concerned, it's a bit of Catch-22 situation: I won't get an advance until I finish the journey… and I need the advance to finish the journey.  While I've had a bit of downtime I've been working on my next big project, but again I won't see any readies back from that until I finish The Odyssey Expedition.
I'm beginning to think I may have inadvertently shot an albatross during that ill-fated crossing to Cape Verde.
BUT ALL IS NOT LOST! I've been working with fellow Brit (and friend of Odyssey superstar Lorna Brookes) Damian Pallett on a plan that will get me back to Wewak in Papua New Guinea and take me to ALL 14 NATIONS OF OCEANIA in one fell swoop.
Step forward Andrew Duncan of Ausmarine Luxury Boating.  Not only has this Odyssey Legend agreed to let me use his own catamaran to do the journey, he has also agreed to fund the expedition: an expedition that will set a BRAND NEW Guinness World Record: the fastest sea journey to every sovereign state in Oceania.
No, seriously: here's the map of the proposed route (clicky for biggie):
Obviously I have to go back to Wewak in Papua New Guinea to 'pick up the trail' so to speak.  Check out how mad Palau is… miles from anywhere!!
We're gearing up to be gone by the end of the month.  I can't thank Andrew and Damian enough – if we pull this off we will achieve something that has never before been attempted, never mind done.  Don't be surprised if you see the word 'Ausmarine' popping up all over the website over the next few weeks… I don't care: I'd tap dance the fandango naked in St Peter's Square to make this happen.  And, by Jove, IT'S GOING TO HAPPEN.
Keep the faith, we'll get there in the end!!
Graham
Melbourne, Australia
1 June 2011
02.06.11:
For somebody with my fun-seeking personality traits it may come as a shock to some of you that I've never knowingly taken an illegal drug.
The closest I've got was haplessly sharing a 'Happy Pizza' in Cambodia back in 2002: coming from the country that also has a 'Happy Rifle Range' I (rather naively) thought it would be the Cambodian equivalent of a McDonald's Happy Meal.  Well it wasn't for kids and I didn't get a toy, but do I have to concede: it did make me happy.
So despite all the travel, all the gigs, the random house parties and music festivals I've attended over the years, nobody has ever seen me smoke a joint, snort a line of cocaine or declare I can fly after taking acid.  I don't need acid to fly, I have Ryanair.
Okay, some people may have seen me in a nightclub sweating like a madman and hugging random strangers while simultaneously attempting to chew my own face off, but that's just how I dance.
If I get a little agitated when some narcotic is being passed around in my presence, it is not because of the existence of said narcotic, but because of the looks I get from my peers when I politely decline.  A kind of 'do you think you're better than us?' look which I don't really deserve.  Of course, I do think I'm better than them, but that's only because my healthy arrogance leads me to believe I'm better than everyone… it has little or nothing to do with what they choose to suck into their own bodies.
So it may come as a further shock when I say that I am 100% in favour of the ending of prohibition and the legalisation of ALL drugs.  As soon as possible.  Obviously not to make my life easier, I don't grow them, deal them or take them: but to make this world – the only planet we'll ever know – a more peaceful place for everyone.  Everyone.
And, guess what?  There's a whole bunch of powerful people who FINALLY agree with me…
BBC NEWS: GLOBAL WAR ON DRUGS HAS 'FAILED' SAY FORMER LEADERS
But (I hear you scream) drugs ruin people's lives!!  Yes.  Yes they do.  But then so does falling in love with the wrong person, getting pregnant at 16, your boss being an utter bastard, eating too much, not eating enough, bad tattoos, plastic surgery, adultery, modern architecture, World of Warcraft, RELIGION!!! …but none of these things are illegal in the Free West.
Although Modern Architecture possibly should be.
I hope you don't think I'm being unduly flippant here comparing drug addiction to adultery.  Look at the suicide statistics: drugs (if involved at all) are almost always a secondary factor after relationship breakdowns, mental illness or peer group isolation.  'They ruin people's lives' is an inept an excuse for keeping the status quo as when people say 'There's no point in getting rid of Hitler / Stalin / Pol Pot / Idi Amin / Trujillo / Pinochet / Milošević / Saddam Hussein / Colonel Gaddafi / Mugabe / Bono – because somebody else will just replace him.'  Don't get me started on that one.
Humans do tremendously dangerous things in their everyday lives – they drive cars, climb ladders, breathe in all kinds of germs on The Underground, get drunk, change lightbulbs, eat undercooked meat, climb aboard a jet plane or take leaky wooden boats over high seas with no radio.  We can't (and shouldn't) stop them doing these things, but we can all work together to make these risky propositions a little less fraught – health and safety guidelines, for example.  The same should be true of drugs.
Mentally competent adults living in a free society should be able to claim 100% ownership of one thing: their own bodies.
Your own body should be the one thing that is inherently YOURS.  Whatever bonkers thing an educated, mentally competent adult wants to do to their own body – so long as it harms no others – should be the alpha and omega of human rights.  If we can't claim ownership of our own faces, arms, legs, hearts and livers then we are nothing.  Your body is the one thing that every human – from the shoeless orphans of Kinshasa to the privileged toffs of Cambridge – has dominion over from birth, and that's an authority that no other human should be able to take away.
We can't get away with saying that everyone who has ever taken drugs is insane.  If that were the case, over a QUARTER of the British population would be certifiable.  And that's just the people who didn't lie on the survey.  There are millions of functioning cocaine users all over the UK.  Chances are you're sitting less than 50 metres away from one RIGHT NOW.
Of course there is plenty of "well, I should be allowed to do what I want with my body, but other people – you know, stupid people – shouldn't" being bandied around, but even with a monster ego like mine I couldn't even think something as arrogant, well, not with a straight face.
But I come now to the crux of the argument: making something legal does not make it 'right'.  There are enough people out there who disagree with abortion – fair enough, nobody is going to force them to have one.  People don't like horror films, fine – don't watch them.  I can't stand Russell Brand: happily I have a remote control.  When drugs are legalised – and I'm confident this is something that will happen in my lifetime – I will continue to pass on the joint to the next person.  I don't smoke, I have never smoked, I hate smoking and I'm not going to take up something I detest just because it's legal.  Did legalising homosexuality make otherwise completely heterosexual people gay?  Of course not.  I'm never going to degrade myself my snorting a line of legal cocaine any more than a holiday to Spain is going to make me want to fight a bull.
'But we need to protect the children!' and on that point, Mr. and Mrs. Knee-Jerk Reaction and I heartily agree.  But do the maths.  Governments around the world waste TRILLIONS of dollars trying to stop drugs entering their countries and locking up dealers.  Turn that around.  With legalisation, regulation and taxation governments would not only make billions in tax, they would save billions by cutting the prison population by up to THREE-QUARTERS, all but eradicating drug-related crime, as well as the massive savings that would be made on things like policing, customs and legal aid.
All that extra wonga could be spent on IMPORTANT THINGS like education, health care, and stopping terrorists blowing stuff up.  It could be spent not on protecting a 21 year old accountant from himself, but on educating kids on the real dangers of drugs (like the problems cannabis can cause to a developing brain) and on severely punishing people who give or sell drugs to minors.  Hell: there'd be enough empty cells to throw them in.
At the moment the only people befitting from the status quo are the drug dealers.  If anyone can suggest to me a criminal activity that is as profitable or as easy as dealing drugs I'm all ears.  A note to would-be jewel thieves: you're in the wrong business, mate.
And don't give me that hackneyed old crap about some drugs being 'better' or 'worse' than others.  The ongoing Mexican Drug war last year resulted in the cold blooded MURDER of more people than ANY OTHER WAR CURRENTLY BEING FOUGHT IN THE WORLD TODAY.
And where does most of the cannabis – soft lovely squishy friendly hippy cannabis – that's in the United States at the very moment come from??
Mexico, of course!!  Hey stoners!  That's a f–k load of blood you've got on your hands!  Well done you!
The time has come for us all to band together for the good of ourselves, our communities, our civilisation… and support this movement to rid the world not of drugs (because that is proving impossible) but of drug lords. And the only way to do that is by legalising the whole stinkin' lot of them.
Yes, I agree that drugs are not the best of ideas, but all we are doing with this daft prohibition business is making a bad situation worse.  Drugs exist.  They always have and they always will.  While vast numbers of humans on this planet want to try them, we're never going to stop them.
If I want to dick around with the chemical composition of my own brain, (MY brain, not yours) no farmer in Colombia, mother in Mexico, kid from Moss Side or policeman in Baltimore should have to sacrifice their lives to the process that makes that possible.
I decided at a young age to never take drugs – not for religious reasons, not for health reasons, not because I'm a party pooper, but because the whole dirty business – and it's nothing but a business – made me feel profoundly uncomfortable.
Perhaps I saw a future in which I could stand up against hypocritical politicians such as Barack Obama and David Cameron and point out just how much blood they have on both hands.
Their left hand for giving money to drug dealers when they were younger – something they both admit – and their right hand for supporting the profits and business practices of today's drug lords by keeping drugs illegal.  Whose interests are these bastards representing?  Us?  Or the drug lords… and the global trail of death and misery that they leave in their wake?
BBC NEWS: THE PRICE OF MEXICO'S 'DRUG WAR'
Even as the war on drugs continues to pile up the casualties, drug rehab program options for addicts everywhere continue to increase.
One thing is for sure: my hands are clean. I'm putting them up in the air and surrendering. The war against drugs has been lost. It's time to declare war against the drug lords: a war we can win without firing a single shot.
03.06.11:
There's a movie that I implore you all to watch: Werner Herzog's Grizzly Man. It tells the story of an incredibly stupid guy called Timothy Treadwell who thought that the Grizzly Bears of Alaska were his friends. He treated them like pets, like members of his family… and they ate him.
A true, cautionary tale that we should all draw some important lessons from. One is that wild carnivorous animals are not our friends; they deserve our respect and awe, but to them we are nothing but walking slabs of meat. The other is so self evident that it hardly needs to be said, but I'll say it anyway: don't f–k with nature, because nature will f–k with you. And you don't need Dr Frankenstein to explain that you don't stand a chance.
I'm in Australia at the moment watching with horror as the so-called 'Liberal' party (something they are anything but) openly questions the scientific FACT of climate change. Yep, these elderly selfish cretins are so moronic that they honestly think they can change the amount of CO­2 in the atmosphere, the temperature of the sea and, yes, THE WEATHER by voting against it. Shocking, yes. In the UK, there is a cross-party consensus concerning the science of climate change: there may be disagreements on the methods that should be employed to tackle this future ill, but at least they all agree that it's actually happening and that it's all our fault.
It's time to stop asking what Planet Earth can do for us and instead focus on what we can do for Planet Earth. 'Stop needlessly filling the atmosphere with carbon' would be a good start.
There are stark parallels between the Australian Liberal party and Timothy Treadwell. Both think they can trump the laws of nature, both believe that they shoo reality away with a bizarre gust of optimism (it'll be right, mate) and both think that the scientific consensus of the world is wrong and that they are right – with no evidence, no expertise and no scientific understanding or endeavour.
But there ARE crocodiles, and if you swim in the river, chances are they'll eat you. Misunderstanding the evidence will not save your life.
But this issue is bigger than crocodiles and grizzly bears, it's an epic tragedy that will affect the lives of everyone and everything on our lovely little planet. Such high drama is worthy of one fella: the Bard of Avon. So I hope you don't mind me stretching a metaphor like so much Lycra over a massive pair of buttocks, and I also hope you recall a little Shakespeare from high school…
The Liberal party of Australia have nailed their colours to the mast: they and their gormless supporters have proven themselves to be greedy, easy-manipulated, cowardly, unimaginative villains in the grand tradition of epic tragedies of yore. They are the Macbeths of the political landscape, constantly screaming 'yeah, but what's in it for ME?': grand, obnoxious, selfish and guaranteed to come a cropper by the end of Act V.
Then there are villains equally as hopeless, but not necessarily driven by inherent greed or selfishness: they are the Hamlets of the world, caught short by their inaction, indecisiveness and procrastination. They are the politicians and representatives that have seen the evidence, know something must be done, but don't have the grit necessary to take the bull by the horns and kick it in the bollocks.
The Hamlets' monumental inability to deal decisively with the 'something' that was rotten in the state of Denmark (The Copenhagen Climate Change Summit of 2009, anyone?) has lead them on a merry path to damnation. They could have done something, anything, but they didn't – they just put off the decision for another few years. Nice one, guys – it's not like every day it's getting worse or nuthin'!
Like their namesake, it's not just the Hamlets that will pay the consequences of their inaction: it's everyone around them. Instead of seizing the opportunity to cut out the rot before it spreads, they went fishing. Unchecked, that rot will ooze like black tar all over our otherwise groovy planet, until there isn't a single human, animal, plant or insect that isn't affected.
But what I find most concerning are the Othellos of this global Shakespearean tragedy: those that have seen the evidence, burn with a desire to do something about it, can do something about it, but go about it in entirely the wrong way. While not the obvious villains of the piece, they turn out to do just as much damage, moreso perhaps. Greenpeace, I'm looking at YOU.
Greenpeace is the poster boy for the environmental movement, but, sadly, it singularly fails in its task of – there is no other way to put this – saving the world. By that I mean the world as we know it, of course the good ship Earth will outlive all of its present life-forms (including us), but (given the choice) I would prefer that 'our world' lasted another 100,000 years rather than a mere 100.
How should Greenpeace go about saving the world? By focussing all of its efforts towards stopping the damage we are doing to the atmosphere and encouraging people to have fewer kids. That's it. Simple, but by no means easy. A noble goal that anyone in their right mind would support.
But what's this? GM crops? Nuclear power stations? DDT? Whaling?? No offence guys, but who given the scale of the rather monumental task ahead, don't you think that you should be, you know, concentrating your efforts? If we allow the Macbeths of the world to continue to wreak havoc on a global scale, there won't be enough crops, genetically modified or otherwise, to feed the unsustainably-increasing population of the world.
Then again, I may find it an unnecessary distraction, but it's not the division of Greenpeace's labour that I have a real issue with. I guess pushing for sustainable farming and preserving virgin rainforests have their benefits to the overall scheme of avoiding all things Armageddon.
My real issue is Greenpeace's inability to push the Hamlets into action and whip the Macbeths into submission. Note I used the word 'inability' there: it's not like I think they don't want to, it's that I believe they can't. Why? Because they keep kicking away the one weapon that they desperately need to slay the Tony Abbots of the world. That weapon, ladies and gentleman, is SCIENCE.
Greenpeace has an uneasy relationship with science. They seem to see it as an enemy, possibly because Greenpeace activists are, by-and-large, drawn from the Storms of the world rather than the Tim Minchins.
While Greenpeace continues to battle scientific consensus and the very foundations of scientific reasoning, the impasse will remain, while the impasse remains the atmosphere ain't getting any cleaner.
Greenpeace's quixotic battle against Genetically-Modified crops is one of their more bizarre and counter-productive crusades. Joining forces with the likes of The Sun newspaper and David Icke, they denounce GM crops as 'Frankenstein Food' and make claims (utterly refuted by all scientific studies) that it causes cancer.
Newsflash, people: you know dogs? Yeah, dogs: those annoying yappy shit-machines that bring love and support to the olfactorily challenged?
Genetically. Modified. Wolves.
Over thousands of years of selective breeding we now have a magical cornucopia of doggie breeds, from the Chihuahua to the Doberman. We did that! Humans! Meddling with nature! Woohahahaha!
You know Brussels sprouts? Those nasty little orbs of solidified fart that your auntie forces you to eat at Christmas?
Genetically. Modified. Cabbage.
As is cauliflower. And broccoli for that matter.
If it wasn't for humans meddling with the forces of nature, Chihuahuas and Brussels Sprouts would not exist. And neither would Friesian cows, Clydesdale horses, Vietnamese pot-bellied pigs, garden strawberries, Granny Smith apples or King Edward potatoes. We made 'em all, through years of selective breeding, modifying the genetic code like crazed Dr. Frankensteins intent on world domination. But with CABBAGE!
Have these marvellous inventions increased the amount of suffering in the world? Have they caused untold damage to the delicate global eco-system? Have they wiped out civilisations, pulled apart communities or given people cancer? No. No, they haven't. Is Greenpeace's objection to GM crops based on any scientific reasoning whatsoever? No. But what they are saying is this: scientists are not to be trusted, go with how you feel about something, not the actual evidence.
Nice one, Greenpeace! So let's ignore the research carried out by NASA, Universities all around the world, the Met Office and the Royal Society in favour of our gut instincts. You can see where this is going…
And then there is the spectre of nuclear power. Now while I agree that the world would be a much more lovelier place if it wasn't for nuclear weapons, I cannot say the same about nuclear power. 75% of France's power is nuclear. If they upped their ante on renewable power and got everyone to convert to electric cars, they could be the first carbon-neutral country in the world in just five years. Not bad for a country of 63 million people.
And why should we not be using nuclear power? Because it is perceived to be dangerous. But how dangerous? As unhealthy as making men dig in South American coal mines? As dangerous as a Qatari gas tanker filled to the brim with ultra-flammable fuel sailing through Somali pirate waters? As bad for the environment as deep-sea oil drilling? As bad for the economy as relying on the tyrannical regimes of the Middle East for our electricity? According to all the available data, no. According to Greenpeace, yes.
Again after Fukushima (as after Chernobyl) there was much pulling of hair and gnashing of teeth from the environmental brigade, and (as after Chernobyl) their apocalyptic fantasies failed to come true. More coal miners died in the Pike River mine disaster in New Zealand last year than died tackling the partial meltdown in Fukushima. Let's put this into context: this plant was hit by one of the five biggest earthquakes in recorded history. It was then hit by a 14 metre wall of water: an unprecedented attack in the history of nuclear power.
And what is the reported death toll from the clean-up operation? One. Yup. One person shuffled off this mortal coil – and that was from a heart attack. There is a leakage of radioactive isotopes around the immediate area, but can we please put this into context? 25,000 people died on that awful day in March, and so far not a single person has been killed by radiation poisoning. The Fukushima exclusion zone (at its height) was 20km around the plant. Compare that to the 80-square-mile (210 km²) "kill zone" surrounding the blown Deepwater Horizon oil well in the Gulf of Mexico. So far two people have been hospitalised by radiation poisoning in Fukushima. 500 people have been hospitalised in Europe from eating ORGANIC CUCUMBERS.
I can't stress this enough: just because nuclear power is complicated, it doesn't mean it is inherently more dangerous than coal, oil, gas or even – yes – ORGANIC CUCUMBERS. Fossil fuel – even when NOTHING GOES WRONG – is substantially worse for the miners, transporters, the global economy, local environment and, of course, the whole bloody planet.
Nuclear power could save us, save the whole goddamn world, but is Greenpeace pushing for investment, research, safety procedures, more plants? No. They're pushing to have no plants whatsoever. Why? Because scientists ain't to be trusted.
Isn't that EXACTLY what batshit crazies like Tony Abbot, Sarah Palin and THE ENTIRE FOSSIL FUEL INDUSTRY are saying? Don't trust the hard science, don't peruse the facts, just come up with your own judgement based on how you feel.
This makes me furious – and I'm not even a scientist. I haven't spent my life drilling ice cores in the Antarctic, corralling weather balloons, studying glacier retreat in the Himalayas, analysing meta-data from temperature monitoring satellites all over the world… I haven't done anything to make you live longer, invented anything to make your days more entertaining nor perfected a formula that will make you more comfortable. Scientists have, and despite the fact that we're an ungrateful bunch of bastards, science is not going to give up on us – it's going to keep on searching for a cure for cancer, working out new and wonderful ways for us to communicate, it's going to keep the internet running smoothly, our planes in the air, food on our shelves, power in the grid and our air-bags ready to spring from nowhere and save our lives.
This isn't Lord of the Flies. If we burn down This Island Earth, a helpful ship isn't going to come and rescue us. There isn't going to be a Deus Ex Machina ending to all this, since if there ever was a Deum (which I doubt) he packed his bags and left this place a long time ago my friend.
The environmental movement, if it is to drown out the non-committal drone of the Hamlets and the ignorant bluster of the Macbeths, must begin to use scientific data more honestly. Stop cherry-picking, stop ignoring pertinent and demonstrable facts just because they don't suit your world-view; and for heaven's sake, stop appeasing these c—s in the oil industry by giving them ANY room to manoeuvre.
At the moment Greenpeace, like Othello, is its own worst enemy. They are playing right into the hands of the oil barons, by believing half-understood rumour over demonstrable fact. If only Othello, instead of slaying Desdemona, just listened to her – trusted her – they could have teamed up, destroyed Iago together and exploded his nefarious scheme.
But Othello, like Hamlet and Macbeth, ends in tragedy. He doesn't listen to reason, he doesn't even bother to independently examine the evidence, he just acts on impulse, emotion and a twisted sense of personal justice. We don't have time for such games. The stakes are too high. The anti-science bias of the environmental movement has to end, and it has to end now, for all our sakes – even those who are too pig-ignorant or pig-headed to see what's coming.
04.06.11:
It cracks me up that so much positive emphasis is put on stuff that is 'natural'.  Talk to your average punter in the street and they'll invariably make the assertion that the more natural something is, the better.  The fact that arsenic, earthquakes and cancer are 100% natural and that most things human beings do is pretty goddamn unnatural seems to idly pass them by.  We should be getting back to nature, they say, whereas I say – much in the manner of Kate Hepburn in The African Queen – that 'nature' is what we are here to rise above.
Nearly everything you do in your waking life is magnificently unnatural, and rightly so.  You get up and eat cereal covered in cow's milk (eek!) – which is rather unnatural.  You then brush your teeth with unnatural fibres, put on clothes woven with unnatural materials, get in your unbelievably unnatural car, drive on an unnatural road, go to work in a completely and utterly unnatural building and sit on your unnatural computer all day unnaturally communicating with similarly unnaturally-inclined people all over the world.
You come home, pet your unnatural dog, eat your unnaturally heated dinner off a plate that I'm fairly sure didn't grow on a tree and watch stuff on your comprehensively unnatural widescreen TV before – if you're lucky – doing some devilishly natural things in the bedroom.
Let me break this scenario down: we shouldn't be able to drink cow's milk.  Most people in the world are lactose intolerant beyond the age of around four.  No mature animal in the natural world drinks milk squirted out of another species.  Your toothbrush is made from oil found up to a mile below the surface of the Earth and I have to say I haven't seen too many cats drilling for oil recently (despite what Eddie Izzard says).  The same is true of the nylon and polyester in our clothes and the fact we wear clothes in the first place – do chimps wear pyjamas?  Only when they're selling PG Tips.
As for cars, roads, buildings, computers, the internet: hells bells!  How much more unnatural do you want to be??
As I said yesterday, your dog is not natural, it's a genetically modified wolf.  You think that in the natural world bees make a ridiculous amount of honey for FUN?  More than they would ever possibly need?  Of course not: we did that, dicking around in our apiaries, poking around with their queens and generally meddling with powers we cannot possibly comprehend.
Woohahahahahaha!
What other animals own Playstations, fly aeroplanes, race each other on the backs of other animals, play sports, read books, brew beer, trade money, go skydiving, undergo chemotherapy, use contraception, launch telescopes into space, pay taxes, look after the disabled, produce Mars bars or go Scuba diving?
Are any of these things natural?  No.  Are any of these things good?  Hell Yes.
But for some reason (marketing, I'd say) the world 'natural' has become synonymous with 'good'.  Funny how when things are perceived as good they are called 'natural ingredients', whereas they when they are perceived as bad they are 'harmful chemicals'.  What's the hell is this NaCl doing on my chips…?!  Grr…
The most unnatural things we do are associated with medicine.  In the natural world, an impoverished family has a child, it dies.  In the natural world, if a child is born blind, it dies.  In the natural world 1 in 3 human births result in the death of the child or the mother.  We don't live in a goddamn natural world.  And thank f—k for that!
The horrible truth is that the 'natural' reaction to the news that your wife has been unfaithful is to kill the other guy and give your wife a damn good raping.  Civilised?  No – not by a long chalk, but at least it would be 'natural'.
I can't state this enough: civilisation is not natural.  You want nature?  Check out the warring tribes of Papua New Guinea, the thousands of Indian children who die every year from diarrhoea or the systematic rape of woman in Darfur.  I'm sorry, says the scorpion as he sinks to his death, it's my nature…
Isn't it interesting that while the Catholic Church is happy to condemn the unnatural-ness of contraception, they have little to say about how incredibly unnatural welfare states are.  The very same welfare states that ensure the survival of unwanted or poverty-stricken children produced as a indirect consequence of the Church's unwarranted annexation of the reproductive systems of half the human race.  Half, mind you, and – of course – it's never their half, is it?
While the Pope is content to live his life steeped in unnatural trimmings – and I'm not just talking about his hat – and go so far as to profess SUPER-natural abilities, he (and many religious and prejudiced people of his ilk) see the completely 100% NATURAL fact that a good number of us humans are attracted to members of the same sex (as are a good proportion of dogs, sheep, penguins, fruit flies, etc…) as 'unnatural' and therefore 'immoral'.
Just in case you really believe that humans invented homosexuality for a laugh (possibly with the intent of making Baby Jesus cry), I would really like you to read up about our closest cousin, the Bonobo: http://en.wikipedia.org/wiki/Bonobo.  I think you'll find the information under the heading 'Social Sexual Behaviour' most illuminating.
And if that's not enough for you, the good people at Wikipedia have put together a marvellous list of all the gay animals it can get its grubby little hands on: http://en.wikipedia.org/wiki/Homosexual_behavior_in_animals.  Be warned, it's not a comprehensive list: there are at least 1,500 species – mammals, insects, birds, lizards – you name it – that, for one reason or another, sometimes prefer to bowl from the pavilion end.
This bumbling adherence to the mantra of "natural = good, unnatural = bad" is overly-simplistic, morally abhorrent and intellectually bankrupt.  It needs to be stopped, forthwith!  If people find the idea of two men going at it hammer and tongs distasteful or are haunted by the fact that given a certain angle and a certain light they themselves might be 'turned', they should just admit it – to hide behind the old lie of 'it's not natural' is not just cowardly – it's demonstrably wrong.
But in this world we live in, so desperate are we to condemn others for the choices made for them by Mother Nature, so pathetic our need to one-up each other, that we have made the word 'unnatural' synonymous with the monstrous, the perverted, the subversion of civilisation… when it should mean anything but.  As Hobbes pointed out a long time ago, life for humans in our natural state is brutish, nasty and short.
We live in a world of pernicious memes: viruses of the mind.  And while ad men conning us with their '100% natural ingredients' is just a bit of fun, the flip side of that way of thinking takes us to some very dark places indeed.  In short, some natural things are great, others are not so great.  The same goes for unnatural things.  You can't, and shouldn't, use something being 'unnatural' as an reason to espouse fear or hatred – especially when the activity in question occurs all over the natural world.
The maddest thing about all this is that when you think about it long enough, nothing we do is really that unnatural: everything on this planet is made of naturally-occurring elements and isotopes.  We just find new combinations and uses for them… using our highly evolved brains and opposable thumbs.
In fact, the only thing we can talk of as being 100% unnatural isn't to be found here in this old plane of reality.  The only truly unnatural thing is the supernatural.  And as such – thankfully – it only exists as a quirk of the human imagination.  But (naturally!) that's another story…
05.06.11:
After the death threats I received for slagging off the Cape Verde police force on this very blog, I learnt a pertinent lesson: don't say what you really think until you've left the damn place.  I was therefore saving my torrent of abuse concerning the Australian government's wretched treatment of tourists until after I was well shut of the otherwise good land of Oz.
However, after finding out it's going to cost me $255 to extend my AUSTRALIAN TOURIST VISA (which I shouldn't need in the first place), the dam has burst.
The fury leaping out of my fingertips must be converted to 1s and 0s and plastered all over the net before I explode.
The Aussie Tourist Visa (that'll be $29 please, thanks KA-CHING!) lasts just a paltry three months.  Then you're supposed to fly to another country and back to renew it for another three months.  If you can't be arsed doing that (unsurprising when the nearest OTHER COUNTRY from Melbourne is at least four hours away on a jumbo jet) you're hit by a admin fee that is actually MORE THAN the minimum penalty for being caught drink driving.
If I'm to read between the lines here, I would have to suggest that tourists in Australia are less welcome than drink drivers.  Ygads.
First up, I want you to realise something: last year, more tourists visited Bulgaria than visited Australia.  You think that's bad?  More people visited Syria than visited Australia.  But then you can get a visa for Syria upon arrival.  See where I'm going with this?
There are, of course, salient geographical reasons for Australia's dismal tourist figures: Australia is, after all, miles from anywhere.  Getting to Melbourne from Europe means sitting on a minimum of two planes for a minimum of 24 hours.  Needless to say, it's not somewhere you go for a weekend break.
Coupled with the wince-inducing strength of the Aussie dollar (take any price and double it. Then double it again.), the logic of being the ONLY WESTERNISED NATION IN THE WORLD to require TOURIST VISAS from Europeans just utterly beggars belief.  Yes, you don't need a visa to visit Argentina, a country the UK was at war with in the 80s.  But you do need a visa for Australia… a country that puts our Queen on their banknotes and our flag in the corner of theirs.
I hate hate HATE having to apply for a visa to visit a country.  99% of the time it instantly marks a state out as being nasty, oppressive and totalitarian.  There are 142 countries out of the UN 192 that do NOT require a European tourist to purchase a pre-paid visa.  Those that do are in the minority: they include such luminary and enlightened countries as North Korea, Saudi Arabia, Pakistan, Belarus, Angola, Libya, Turkmenistan, Guinea, Somalia… and Australia.
I can't stress this fact enough: I have been to every westernised country that exists in the world and not one of them required me to ask permission of the government to pop in for a visit.  Except Australia.
Are Europeans likely to come here by mistake?  Might they take that ill-fated left turn at Albuquerque and end up in Alice Springs?  Maybe Australia is terrified of being swamped with the flotsam and jetsam of the richest and most powerful countries in the world [insert lame convict joke here].  Is it because Australia is so insecure, so tentative in its footsteps on the world stage that it would prefer to linger in the collective subconscious as Crocodile Dundee's delightful Aboriginal-loving kangaroo-saving larrikin without having to suffer the indignity of people coming here finding out it's not like that at all?
Indeed, the only logical conclusion one can sensibly reach is that Australia doesn't want, much less need tourists.  Like the boat people (and the Aboriginals if only they weren't – you know – here first) Aussies would much rather you buggered off back were you came from.  Which is not just sad, it's self-sabotage on a scale that would make your average West African dictator blush.
And – dear lord – have you seen the ads?  The 'come to Australia' ads.  OH. MY. GOD.  They give me visions of entering the Australian Tourist Board Marketing Department to find a room filled with baboons wistfully daubing the walls with their own faeces.  See for yourself:
Let me make this quite clear: we are not talking about working visas here, we are talking tourist visas.  Australia makes around $17 BILLION a year from tourism.  I don't know if the government is too arrogant or too incompetent to understand what a whopping great chunk of cash that is, but I can't help but feel pretty damn unappreciated for all my hard work over the last ten years periodically dragging money from my British bank account and peppering it like candy around the dance halls, dives and brothels of ol' Melbourne town.
Lest not forget that the Australian tax payer did not pay for my education (thanks, Blighty old chum), I cannot claim benefits, the dole, working tax credits or train to be a master of falconry while I'm here.  I cannot work, I cannot claim free medical care and if I'm hit by a car, it will cost me (or my insurance company) $779 just to be taken to the damn hospital.  No, really – the ambulances here aren't free.
In contrast — and by 'contrast' I mean 'ARE YOU FRIKKIN' SERIOUS??' — an Aussie tourist can pop over to the good ship UK any time they want, they don't have to ask for prior permission(!), they can stay up to six months (visa free), can visit pretty much every other country in Europe while they are there (visa free) and get hit by cars all they like because the ambulance dragging their mangled remains back to the hospital is paid for by the Great British taxpayer.
This is because in the UK we don't just like tourists, we LOVE tourists.  They're like little mobile piggy banks dispensing fivers around the realm, fivers that we didn't have to invest a packet of our tax money to generate in the first place – tourists are a net gain for my country, your country, any country.
I'm not saying this situation is unfair, the fact that UK is enjoying the fruits of a massive boom in tourism over the last fifty years is not something I'm ever going to disparage – long may it continue.  But the way the Australian government treat its tourists is stupid.  Plain and simple, totally and utterly, mindbogglingly and heartbreakingly stupid.
So, in short, Mr. Ferguson – you are a treasonous dog who is diddling the good people of Australia out of their much-needed tourist dollars.  Visa requirements for tourists from prosperous western nations should be scrapped immediately and a six month entry stamp should be the norm.
Oh, and if you want your long-suffering tourist board to produce an advert that wouldn't make Basil Fawlty scoff at your embarrassingly barnyard attempts at advertising, put a European in charge.  Actually, put ME in charge.  With a decent budget, a small film crew and a handful of good looking actors, I could make each and every feisty travel-lovin' European sit up and beg for buttermilk.  Australian buttermilk.
Graham
Melbourne, Australia
June 5 2011
All the world's a Facebook page,
And all the men and women merely players;
They have their laptops and their iPhones,
And one user in their time plays many parts,
Their acts being seven ages.
At first the newbie,
Preening and sulking in the bathroom mirror;
And then the student, with his mates,
All shiny happy shit-faced, their mugs collide
Gurning to be cool.
And then the groupie,
Pics from the moshpit, of woeful quality
Hoping to impress their iPeers.
Then a traveller,
Full of strange lands, and bearded like a tard,
Jealous acquaintances so quick to laurel,
Stands before ancient rubble weary,
Sullying the Canon's frame.
And then the gegger,
Infers the chap from telly won't mind,
With great unwashed posed by their side,
Full of guess-who-saws and modern inferences;
And so he plays his part.
The sixth age shifts
Into the dreary and slippered parenthood,
With baby photos and baby photos and baby photos;
Their dribbling spawn, pics saved and tagged
More nauseating than sick been bagged,
Thumbed up by fellow beaming goons, fast
Unfriended without a sound.
Last scene of all,
Teen upstairs poking their privates,
Father fearing what he might find. Logs off:
Sans tweets, sans iPod, sans face, sans book.
I often get asked what's in my bag.  I've already done a blog on what (not) to take backpacking, but I didn't really get into the technical stuff, so here goes:
CAMERA: I use an old 2006 Sony HVR-A1(E) HDV camera. It takes mini-DV tapes, which are surprisingly easy to get anywhere on the road. The hand-held successors in this product line were mostly hard-drive cameras, which are fantastic, but in environments where things can go missing, humidity can affect drive heads and stuff is likely to suffer from knocks, tapes are a better idea than hard drives.
When I first started I used the top-mounted XLR mic plugged into the hot-shoe on the A1, but after a couple of weeks I ditched it – at arm's length the A1's inbuilt mic was just as good and in stereo.
I use a cheap Chinese-made 37mm wide-angle lens so my mug doesn't take up too much of the screen when I'm holding the camera at arm's length. The official Sony wide-angle one costs three times the amount and weighs three times as much, so I opted for the lighter, cheaper version. Works just as well.
Keeping things cheap, light and low-fi, I don't carry an XLR mic, tripod, boom, clapperboard, track or even a dolly.
LAPTOP: I carry a (now very battered) Dell Latitude X1, which I bought off ebay for 200 quid. It's one of the last 11.1" notebooks to include a 4-pin firewire input – essential for backing up my tapes off the A1. I then courier the tapes – the raw footage – to the production company. And, so far, I haven't lost a tape (or deleted anything I wouldn't want to be on television)!
I shoot everything in HDV, aka 'half HD' – 1440×1080 pixels per frame with rectangular pixels (full HD is 1920×1080 with square pixels). The TV show is edited in SD, don't really know why. I edit my YouTube clips in SD, on my Dell laptop. I use a legal copy of Adobe Premiere, although to be honest I'm not really stretching the program much: you could probably get away with doing the same kind of thing on Windows Movie Maker.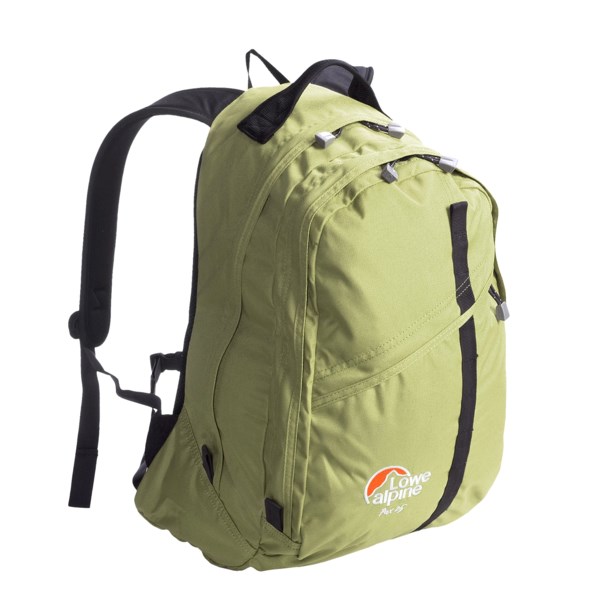 BACKPACK: I use a Lowe-Alpine "Pax25″ bag which I bought back in 2001. This bag has travelled to over 250 countries in that time and still hasn't let me down. You can't buy them any more. Ahh… they don't make 'em like they used to!!
GPS: I use a little Sony GPS-CS1. It's hardy as hell (it survived a dip in the Persian Gulf!) and does the job magnificently. Although it doesn't like trains. It takes a single AA battery. I use rechargables and have a little gizmo for charging them via the USB on my laptop.
PHONE: I use the simplest cheapest Nokia I can find and I carry two of them, just in case. They're fairly indestructible, the batteries last all year and Everyone's got a Nokia charger and there's a torch in the top!! Stick it, iPhone!!
IPOD: Talking of Rotten Apples, Lonely Planet kindly bought me an iPod Touch for Christmas. Yippee, I thought: I could put all my Lonely Planet books on it and easily read them as I go. A nightmare experience of trying to navigate the map of Baku, Azerbaijan at 5am when it was minus 5 put paid to that idea: the time it takes to refresh a pdf screen is painfully slow… we're talking up to a minute just for one step (zoom or move) on a map. I stick with the real books and just use the iPod for music.
STILL CAMERA: I kind of regret not taking a better still camera, but my little Sony Cybershot does an adequate job of holiday snaps. A digital SLR would weigh too much and just be one more thing to worry about.
CABLES ETC: A 4-pin to 4-pin firewire, a couple of USB cables, a third-party all-in-one charge block for my still and video camera batteries, laptop power cable and a DC/DC converter for charging my laptop from the ciggie lighter of a car. Great for long bush-taxi rides!
SLEEPING BAG: I have a tiny Karrimor Global 700 Traveller Lite which packs down to the size of a small loaf of bread. Hardly ever use it, except when I'm on a bus and the air-conditioning is freezing my face off.
Right, that's it. Apart from my Swiss Army Knife, a rather sparse first aid kit and mosquito net, I don't use any other specialised kit, except for my fishing vest which I bought in Herat, Afghanistan. It's got about 20 pockets and can hold two full bottles of whiskey in the lining. Lovely!!
It has come to my attention that the Australian flag is boring and rubbish.
According to flagsaustralia.com.au "there are no compelling reasons why [the Australian flag] should change."  There are, in fact, TWO compelling reasons why the Australian flag should change.  The Australian flag is BORING and RUBBISH.
So is the New Zealand one for that matter.  What is this mad obsession with the Southern Cross?  Apart from Oz and NZ, it's on the flags of Brazil, Samoa, Papua New Guinea, Christmas Island, Cocos Islands, Niue, Tokelau, New Ireland, Tierra del Fuego in Argentina and the Magallanes Region of Chile.  Get over it.
Okay, so it could be worse, I suppose (they could be lumped with a tricolour) but still, you've got to admit it's pretty uninspiring stuff:
And what the hell is that in the top left hand corner?? I'm sorry, but if the Australians are going to insist on charging British people over the odds for tourist visas and continue to mispronounce words like "debut" (they say day-boo! Seriously! DAY-BOO!!! Ahahahaha!) then they should NOT be permitted to co-opt our incredibly well-designed flag just to make theirs a little more exciting.
So today I started looking on the internets to see if anybody had come up with a cool new design. Something that says "AUSTRALIA!!!" loud and proud without cowering behind the stockings of mother Britain, or using a logo that is ubiquitous across the entire Southern Hemisphere, or looking like it might be the flag for New Zealand 'cos they look exactly the frikkin' same from a distance…
And it seems like a fair chunk of the Australian population agree with me.  So why hasn't the flag been re-designed?  Well, for the same reason they still haven't got rid of Queenie: the vast majority of Australians haven't got the foggiest what they should replace it with.
Surely some bright spark in the 223 years of Australia's existence could have come up with a decent alternative to the banal rag on a stick that currently flies above parliament.  Well, you'd think…
Let's Look At The Competition
Here are some 'professionally designed' flags off Australia's main 'let's change our crappy flag' website:
Erm… excuse me?  Hi.  I was just wondering, you know, what makes this not the flag of ANY OTHER COUNTRY IN THE GODDAMN SOUTHERN HEMISPHERE?  Try again.
Ah yes, I see what you've done there: you've made the same flag as above but you've changed the colours around and you've fimbriated it.  And it says 'Australia' to who? The dingos?? Rubbish.
This one looks like a Pepsi Ad from the 80s. With Coke's dynamic ribbon added for a giggle.  Is that supposed to be Uluru?  Crikey, you'd be hard pressed explaining that to your average Aussie, never mind your passing Bolivian.  Does England put Stonehenge on the flag?
Ah… at LAST!  A flag that says "AUSTRALIA!!" Unfortunately it looks like something halfway between a kanga warning sign and the Qantas logo. Kangaroos are ridiculous looking creatures at the best of times and already feature on the crest of Australia. No.
Here are some more, almost all of them clinging to the Southern Cross as if it means something more special to Australia than to the other 100+ countries of the planet that can also see the Southern Cross.
The only one of these 12 designs that screams 'AUSTRALIA!!!' is the kangaroo one, top right.   I'm sure the original is of great anthropological interest, but come on – it looks like it was drawn by a six year old. Not cool.
Stuff the Goddamn Southern Cross
In a survey posted on the same site, 41% of respondents in a given opinion poll thought it necessary to depict the Southern Cross on the Aussie flag. It seems that some Australians believe that you can only see the constallation Crux from the top of Uluru.  This is not the case.  The Southern Cross is visible from anywhere south of France.  It just goes to show why nothing important should be put to a public vote.  Like the Australian National Anthem, yeah?
It's fairly clear that Australians, by and large, want a new flag, but just haven't been presented with a decent alternative… yet.
Given that I'm fairly well positioned to exploit my current surroundings and I believe you should never criticise something unless you're damn sure you could do a better job  yourself, I've designed Australia a lovely new flag.
Ain't I the sweetest?
The main concept in my mind was stuff the goddamn Southern Cross. The only visual message conveyed by the design is "I'm from the bottom half of the planet!".  Now might be a good time to reiterate the fact that there are 47 countries in the Southern Hemisphere.  The Southern Cross says 'Australia' about as much as a cloud says 'England': you can see what they're getting at, but as a unique feature, it's an epic fail.
Australia's Greatest Symbol is Australia
Very few countries could get away with using the shape of the country on their flag (just from the outline, could you identify Albania, Uzbekistan, Paraguay…?), but Australia can and therefore it should.
The shape of Australia is a design classic – used on Australian logos, designs, icons, websites, products the world over.  Why?  Because everybody who has ever glanced at a map of the world knows the damn shape!!  It's not just an island continent, it's THE island continent – the ONLY one on the planet – sitting there in the middle of the deep blue sea saying "don't I look AWESOME?".
So I based my design on the Aboriginal flag but with the central solar disc swapped for the iconic shape of Australia itself.  I also changed the colour of the lower half of the Aboriginal flag from red to green:  green and gold being the National Colours of Australia.
You can try it in different colours, but – trust me – it won't look as cool.
While 29 national flags use red, white and blue, there's only one other flag that uses black, green and yellow: and that's Jamaica, possessor of one of the coolest flags in the world.
So here we have
a colour scheme that is very unique, but still aesthetically pleasing
a combination of  the colours and designs to reflect both modern Australians and the country's heritage – this flag is 50% aboriginal and 50% modern Australian.
a design that is striking, simple, effective, timeless and will make any true red-blooded Australian get off their fat arses, man up and salute their it's-alright-I-suppose antipodean home.
People of Australia, behold your NEW AUSTRALIAN FLAG:
Next up, New Zealand…